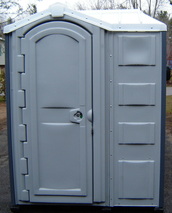 The 1.5 restroom is very popular for weddings as it allows the extra room wanted, as well as, it can accomodate a parent with small children to all go inside. These larger units can be mixed and matched with regular units and a handwash station.

This unit comes standard with instant hand sanitizer, 3-roll toilet paper, mirror and shelves. A touch light can be used in any of our restrooms that have shelves. (those are not included)
---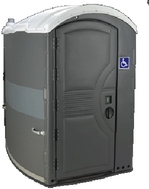 The ADA compliant restroom is a 6 ft by 8 ft unit that meets all handicap accessible requirements needed. Comes standard with 3-roll toilet paper and instant hand sanitizer.

---
Order a handwash station with any order when soap, water and paper towels are needed. These are great when food is being served or for construction jobs when hand washing is needed. Holds 23 gallons of fresh water and the grey water is self contained in a separate unit.
---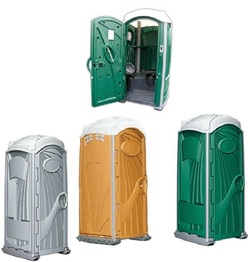 The Regular Restrooms are the most popular and economical. Our main color is Forest Green, but we do have specialty colors such as gray, orange, purple & yellow, red-white-blue, and green & yellow. Typically we use the gray units for wedding as they compliment the tents and surroundings.

These units are 4 ft by 4 ft and have a 65 gallon waste tank. They come standard with instant hand sanitizer, 3-roll toilet paper, mirror, shelves and coat/purse hook as well as a hover bar.
---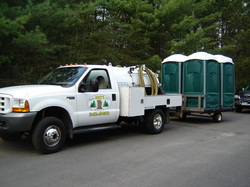 Scott's Portable Toilets can handle all your portable restroom and sink needs. Call us today to reserve your units.

715-342-5492
---